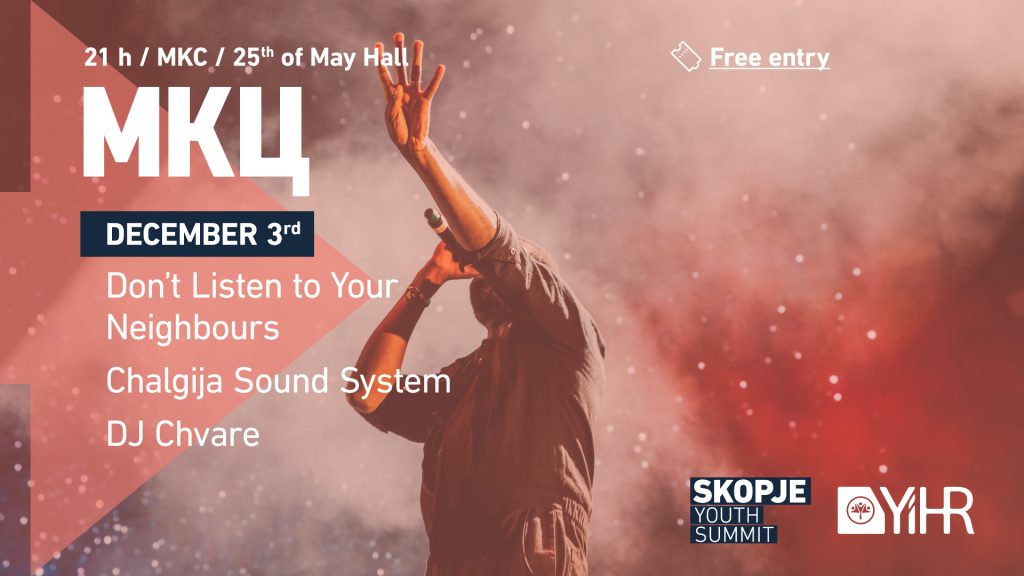 Join us on the free concert for the opening evening of Skopje Youth Summit!
Mladinski Kulturen Centar, 21:00 (December 3)
Don't listen to your neighbours is a trio from Kosovo. The band came together in 2015. Along their classical training and other small musical engagements, the three musicians from Gjakova have always maintained a well-refined collection of traditional Albanian repertoire, and in the last few years they have developed quite a unique style with elements of jazz delivered through sophisticated arrangements.
It is out of their deep affinity to their inexhaustible collection of folk songs, traditional coloratura and typical Eastern European rhythms that they make possible, thanks to their musical curiosity and virtuoso performance, that well-known songs from Kosovo are heard again, of which their trio is a true representative. It is no surprise that they are now attracting more and more attention.
Chalgia Sound System band / Чалгија Саунд Систем was created in 2008 and at the very beginning band set a goal: to study, analyze and play a part of the rich musical heritage: the Macedonian chalgia.
Since then the band has performed chalgic songs with dedication and thoroughness and dances consistent and true to tradition.
In 2009 the band recorded their first self titled album. The band members decided to fill it with 18 songs and dances, which, incidentally, were recorded live in the Alfa TV studio. This concert became one of the best and one of the most frequently played concerts on this national television. The band simultaneously presented their work to a wide audience across the country with live performances, many concerts and club performances. Over time, the band differentiated its expression and established itself on the Macedonian scene with its distinctive individual style and approach.
Born In Skopje, Macedonia in 1983, DJ Chvare grew up listening to hip hop, funk, soul, jazz and reggae.
Inspired by the old school sound of hip hop he started spinning records in local bars around Skopje when he was 17 and turned out to be one of the most distinguished DJs in Macedonia since. Having spent many years playing at all of the major local night clubs (alongside local hard-hitters and national acts alike), holding multiple residencies, DJ-ing special events and promoting his own shows, DJ Chvare has had a lot of time to develop his sound in various styles and genres with a focus on hip hop, funk and jazz.
Apart from his regular performances in Macedonia, he also performed abroad around the Balkans, Spain, Netherlands, Czech Republic, Thailand, Cyprus etc.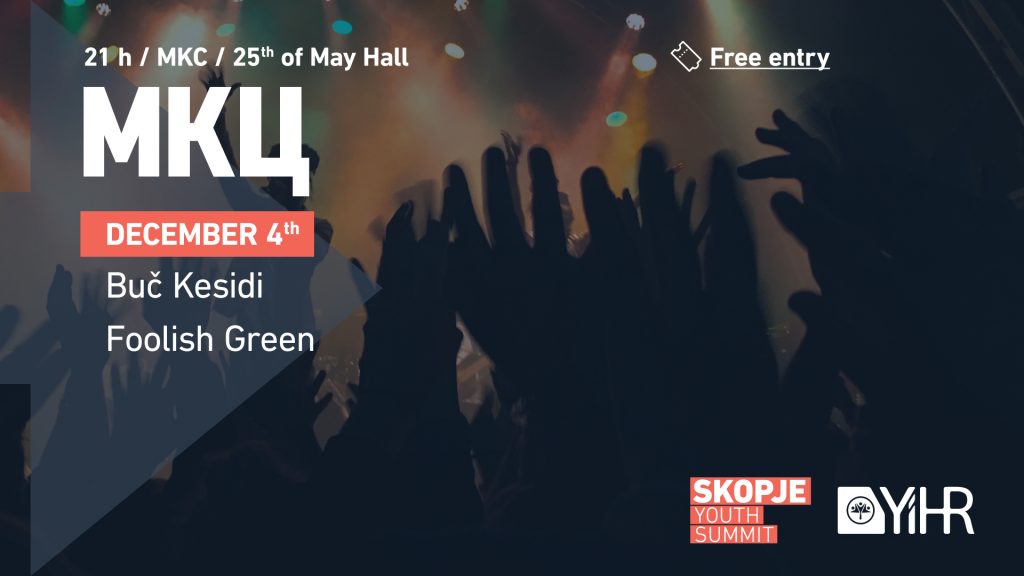 On the second evening of the Skopje Youth Summit you will have a chance to hear these two amazing bands!
Mladinski Kulturen Centar, 21:00 (December 3), Free entry
Left handed disco indie rock sensation Buč Kesidi from Pančevo will have their first concert in Skopje on December 4! This concert organized by Skopje Youth Summit will also be the promotion of their new studio album that will be released on November 25. The album will be available at all streaming services. For the video that announced the album band selected the song "Subota" which will be the fourth single on the new album.
The singles "Nema ljubavi u klubu", "Đuskanje ne pomaže" and "TIHO" Buč Kesidi continue to redefine their own sound but also shift the rules of domestic production so far. All three songs attracted a lot of audience attention and made the band one of the most sought after performers from the region. In support of this, there are sixty performances during the summer, including the Main Stage of EXIT Festival and Belgrade Beer Fest, as well as the Milan Mladenovic Award nomination. At the beginning of October, it was announced that the band would represent Serbia at the famous Eurosonic festival in the Netherlands in January 2020 when they would perform together with their friends from the band Ljubičice.
Foolish Green is based on an intuitive and spontaneous inner feeling that is sonically reflected in their music. It abounds in a variety of sound textures, unconventional arrangements and challenging texts. The band's debut album (Escape) sets the stage with two great concerts one after another in March 2013. In this album, the primary creator is Nenad Stefanoski, from whom comes the whole idea and concept of the composition, a concept that involves collaboration and exchange with many musicians and artists.
Since then, the band, which has undergone several changes in composition in the initial stages of its existence, has embarked on several mini tours throughout its country, as well as through Slovenia, Serbia, Croatia, Germany, the Netherlands, Austria and Slovakia.
The Youth Initiative for Human Rights will hold the 5th Youth Summit in Skopje, North Macedonia, from December 3 to 5. The region's keystone youth event will promote democratic unity and strengthen pro-democracy discourse and convictions among youth in the Western Balkans region and beyond, allowing them to connect and reconnect, learn from one another and gain greater understanding of political movements and civil society around the world.
For the past 10 years, YIHR organized Summits with the support of National Endowment for Democracy in Belgrade (2009), Prishtina (2012), Sarajevo (2015), Zagreb (2017) and now Skopje.